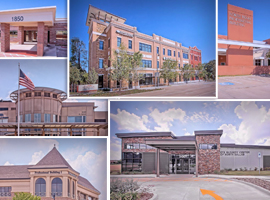 Make an Appointment
Make an appointment online. Simply fill out a form, call us or e-mail us and we'll confirm or suggest an alternate time:
Schedule Appointment
Meet the Staff
Our five doctors rotate between our five locations at your convenience.
Dr. Steven Elieff, Dr. Russell Snook, Dr. Stephen Ku(Left to Right), Dr. Allen Wang (not pictured) and Dr. Megha Agrawal (not pictured) are Board Certified Eye Physicians and Surgeons on staff at North Dallas Eye Associates.
Find out more
Denton Office
2817 S. Mayhill Rd., Suite 110Denton, TX 76208
Flower Mound Office
2560 Central Park Avenue, Suite 300 Flower Mound, TX 75034
Frisco Office
5575 Warren Pkwy, #210 Frisco, TX 75034
Lewisville/Speks Optical-Vista Ridge
1850 Lakepointe Dr., Suite 200, Lewisville, TX 75057
Plano/Speks Optical-Willow Bend
6020 W. Parker Rd., Suite 250Plano, TX 75093